Earlier this year, the Braidwater Group invited community, charitable and sporting organisations in the Glenmona area, to apply for funding, in celebration of the commencement of construction at the West Belfast site.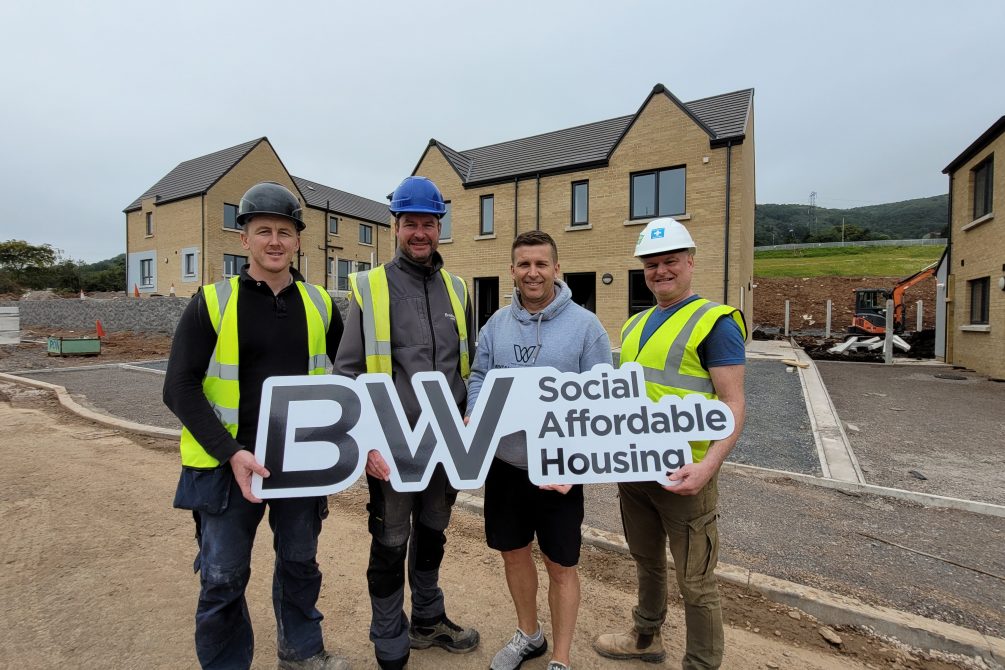 Pictured third from left is Gerard Mallon of West Wellbeing Suicide Prevention along with The Braidwater Group's (L-r) Ryan Tannahill, Site Manager, Colin Martin, Site Manager and Ciaran McMonagle, SHEQ Manager
Glenmona
The Glenmona development will see the creation of a new mixed-use urban village by Apex Housing Association (Apex) under the guidance of leading house builder, BW Social Affordable Housing, which is part of the Braidwater Group. 
West Wellbeing Suicide Prevention
Recently, the Braidwater Group announced the recipients of the funding, the second being charity group, West Wellbeing Suicide Prevention.
Founded in November 2021, West Wellbeing Suicide Prevention was set up to provide immediate access to counselling for those affected by poor mental health and suicidal ideation. 
The charity has grown significantly since its launch with 71 people involved including board members, staff, volunteers, student counsellors and fully qualified sessional counsellors.
West Wellbeing Suicide Prevention helps close to 200 clients per week, who are very vulnerable and of which over 30% are children. 
Darren Farnan, marketing manager of the Braidwater Group confirmed the Group's support for West Wellbeing Suicide Prevention:
''With a lot of charities experiencing budget cuts we're delighted to be able to support West Wellbeing Suicide Prevention and we wish the group all the best for the forthcoming year with the critical service it provides.''
Braidwater Group
The Braidwater Group has been building homes of quality, style and value for close to 50 years and is committed to not only building homes but to bettering the lives of people throughout Northern Ireland.