Deadline has now passed for Cappagh Green registration
Developed by BW Social Affordable Housing for Radius Housing, Cappagh Green is a new development in Portstewart which offers 12 new homes for sale in a mixed tenure, residential scheme of 87 homes.
Deadline
The deadline for prospective purchasers was Friday 13th November but you can still register your interest by filling out the questionnaire and you will be added to a waiting list:
PLEASE CLICK HERE TO REGISTER YOUR INTEREST
Eligibility
The questionnaire will be the only form of expression of interest acceptable for each prospective purchaser. It is the responsibility of each purchaser to ensure that the questionnaire is accurately completed and within the timeline highlighted.
For more information on Cappagh Green and the house types available, please click here
Selling agent:
For further information please register as detailed above but if you have any questions please contact Benson's Estate Agents on 028 7032 1133.
Smart Mortgages:
For further information contact our trusted mortgage advisor, John Duffy, on: 077 4696 9497.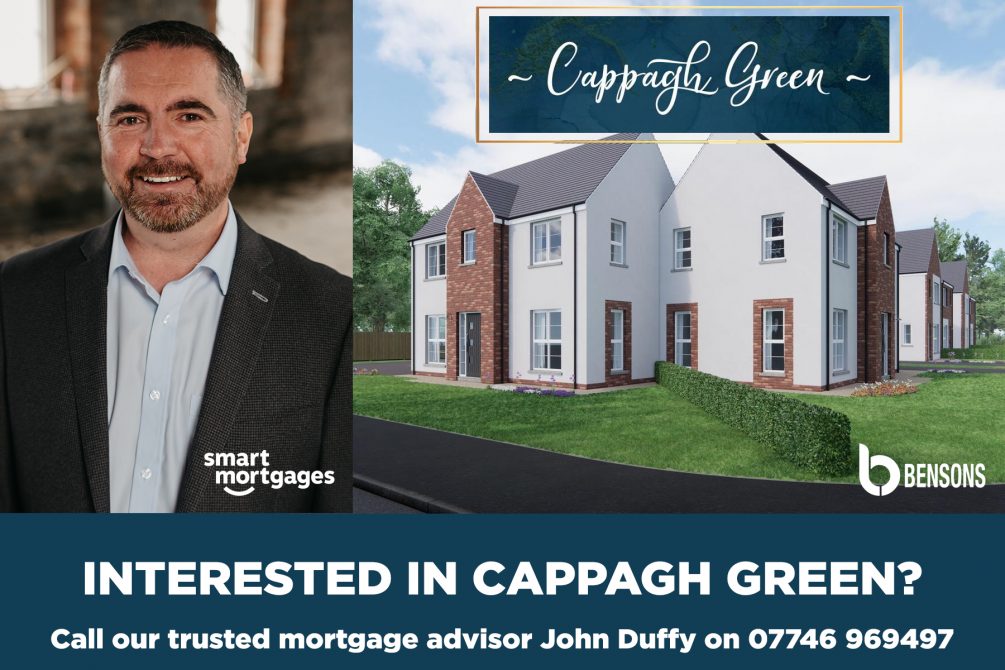 Portstewart and the surrounding area
Located off the Coleraine Road in Portstewart, Cappagh Green occupies an ideal location where the edge of this bustling seaside town meets the open countryside. Portstewart is a small and prosperous town with a big personality, and few places offer so much to its residents. Whereas most areas of outstanding natural beauty tend to be off the beaten track, Portstewart fuses one of Europe's most scenic landscapes with the convenience and charm of a vibrant seaside town.
Modern coastal culture is defined by Portstewart Strand. Two miles of golden beach and blue flag waters are bordered by the spectacular sand dunes that lead down to the tranquil banks of the River Bann. A cliff path with views across to Donegal connects the peaceful surroundings of the beach with the town, passing fishermen cottages, ancient harbours and artisan coffee houses en route.
The town centre is defined by a crescent-shaped promenade, known as 'The Prom,' which packs coffee houses, delis, art galleries, bakeries, ice cream parlours and bistros along a genteel facade. The area has a reputation for being a foodie's favourite with everything from freshly stone-baked pizzas, traditional Italian gelatos, to locally sourced seafood on offer.
Beyond the beauty and the beaches, Portstewart can perfectly accommodate the needs and aspirations of modern family life. Cappagh Green is just four miles from Coleraine, an established market town that has a vast array of amenities, educational options and transport links. Alongside locally run shops, there are the main high street and supermarket brands to satisfy all the essential shopping requirements.
Commuters are well catered for with extensive bus and train links north to Derry/Londonderry and south to Belfast via Ballymoney, Ballymena and Antrim. The completion of the A26 has transformed the southbound journey with the dual carriageway enabling a Portstewart to Belfast City Centre journey in just over an hour.
And for those sporting enthusiasts, there is no where better than the north coast for the ultimate golfing experience. From Portstewart's triple helping to the world renowned British Open venue of Royal Portrush, you'll be spoilt for choice when it comes to fairways.