The H1B development on the Skeoge Link is the latest large scale construction project in the north west, involving the building of 263 units at a cost of £25,950,000. 
Planning approved was achieved in February 2019 and construction commenced onsite in May 2019 and the expected completion date is March 2022.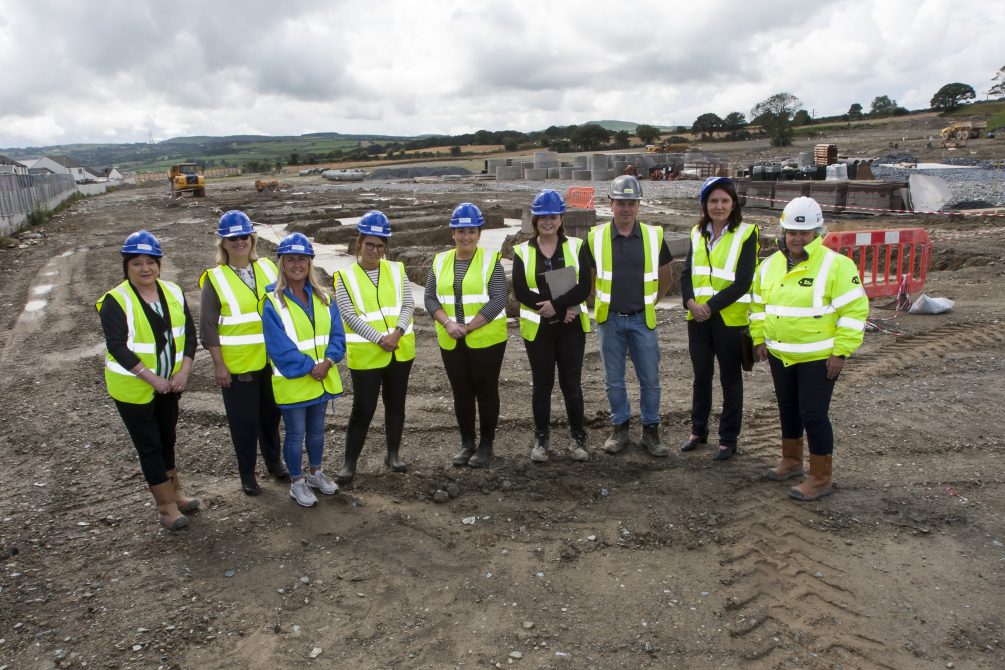 As part of the community engagement, the Buy Social unit facilitated an event with BW and community groups in the area, including Creggan Neighbourhood Partnership, Dove House Community project, Apex Housing Association and North West Regional College. Pictured are Marie Ferguson – Client Completions Manager Braidwater Group, Sue Doherty Mellon – Communications Officer NI Federation of Housing Associations, Ciara Ferguson – Manager Greater Shantallow Area Partnership, Aimee Clyde – HR Manager Braidwater Group, Natasha Logue – Project QS, Elizabeth McClean – Trainee Site Manager Braidwater Group, Colin Britton – Contracts Manager Braidwater Group, Teresa McCloskey – Performance & Quality Improvement Manager Apex & Nuala Griffiths – Development Officer Strategic Investment Board.
One of Northern Ireland's largest housing associations, Apex Housing Association is responsible for the management of the completed social rented homes and also provide affordable housing for sale to first time buyers or people who are currently not in home ownership.
BW Social Affordable Housing (BW) is the successful contractor who was awarded the Apex development at Skeoge Link, Derry (H1B Lands).
Located in Eglinton and with operations throughout Northern Ireland, BW is part of The Braidwater Group which has over 40 years' experience in the industry. The company currently has eight 'live' developments with close to 1,000 private and social homes in construction throughout Northern Ireland. 
Contract valuation
The contract involves the building of 263 units at a cost of £25,950,000. 
Buy Social target
The project has a Buy Social Target of 1,201 person weeks. This means that BW has to create employment opportunities for students, apprentices, education leavers and long term unemployed.
Community engagement
A community engagement plan has been developed for the project and the contractor will liaise with community organisations and arrange to deliver vocational talks and site visits to highlight the careers in the industry that could lead to jobs for disadvantaged young people from the area.
Charitable donations
In August 2019, BW was delighted to announce the beneficiaries of its charitable donations in line with BW's commitment to support the communities it works in during the commencement of construction.
The first recipient was Glenabbey Community Association (GCA) which was established in April 2017 as a community based / resident support organisation. The second recipient was the well-known and loved Playtrail which provides an inclusive approach to play, indoor and outdoor.
The third recipient was Studio 2 at Greater Shantallow Community Arts (GSCA). Formed in 1999, GSCA is a dedicated community arts charity that is passionate about using the transformative power of the arts to make a positive impact on people's lives.
Considerate Constructors
H1B is a registered Considerate Constructors Scheme and BW strive to get top marks in the Scheme's core values which consist of, "Care about  Appearance", "Respect the Community", "Protect the Environment", "Secure Everyone's Safety" and "Value the Workforce.''