'Work is progressing well' is the positive message from the Braidwater Group regarding one of the largest residential developments in Northern Ireland – Glenmona, located beside the Glen Road in Belfast.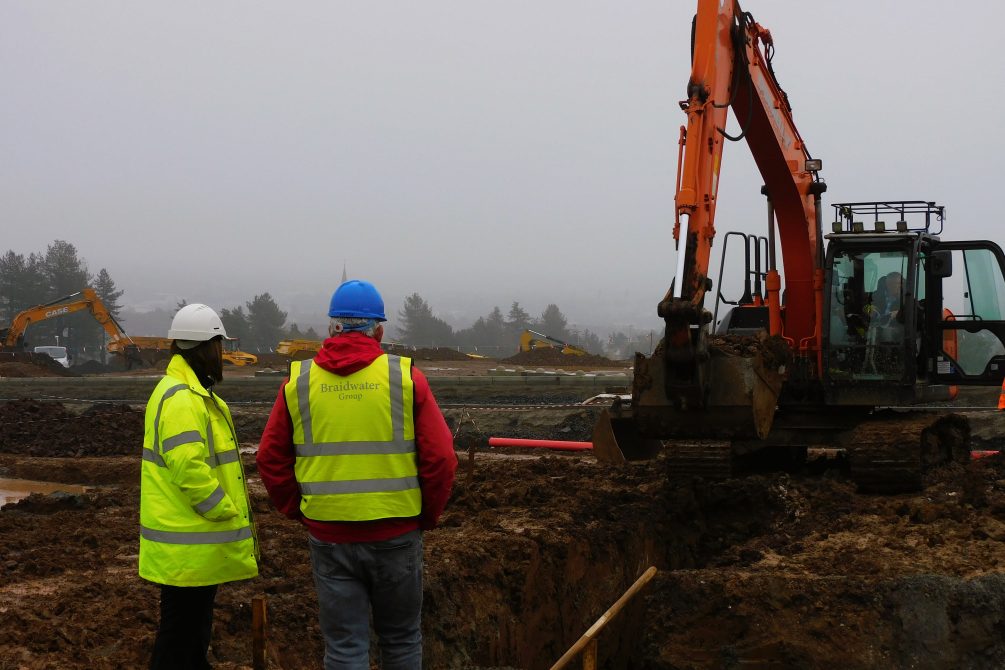 Work is progressing well with the commencement of the first foundations at Glenmona.
The Glenmona development has seen the first foundations for the new homes under way and will see the creation of a new mixed-use urban village under the guidance of leading house builder, BW Social Affordable Housing, which is part of the Braidwater Group. Work first commenced on the site early in 2021 and the development will mature with over 650 social homes on the 75-acre site in west Belfast.
Along with the homes, the development will comprise a community centre with MUGA (multi-use games area) pitch, two care homes, a neighbourhood retail centre, a hotel and a number of children's play areas.
Apex Housing Association will be responsible for the management of the completed social accommodation in the new development.
Situated in the west of the city, Glenmona is a largely undeveloped parcel of land that rises from the Glen Road towards the Upper Springfield Road. The site also boasts panoramic views over Belfast and beyond to open countryside including the picturesque Mourne Mountains.
Headquartered in Eglinton and with developments throughout Northern Ireland, The Braidwater Group has over 40 years' experience in the building and development industry, and speaking this week, Ryan Boyle, Chief Operating Officer at the group said: 'We are delighted with the construction progress at Glenmona in west Belfast. Despite encountering a vast amount of preliminary infrastructure and civils work initially, the project is now on-plan and will provide much-needed residential accommodation and community space in the area.

'We've been engaging with the local community representatives with walkarounds on site and as part of our commitments to the Considerate Constructors Scheme, we're also working with the local schools, shops and community groups to develop relations throughout the area.'
Stressing how the present political climate was having an adverse effect on the industry and other added pressures, the Operating Officer added: 'This is a crucial time for the construction industry which is facing pressures from the political situation in London, the pandemic and Brexit knock on.
'Our project at Glenmona is providing hundreds of direct and indirect jobs for the local construction industry and the 'Buy Social' programme at Glenmona will ensure that job opportunities will be offered to apprentices, long-term unemployed, education leavers and professional trainees. We have also focused on sustainability, biodiversity and environmental factors, with plans to retain existing as well as planting over 10,000 new native species trees, adding to the wooded character that will last into the future.'