The pupils of St. Teresa's PS, West Belfast were the recipients of a planter box and insect hotel recently, courtesy of the team at the BW Social Affordable Housing (BW) site at Glenmona.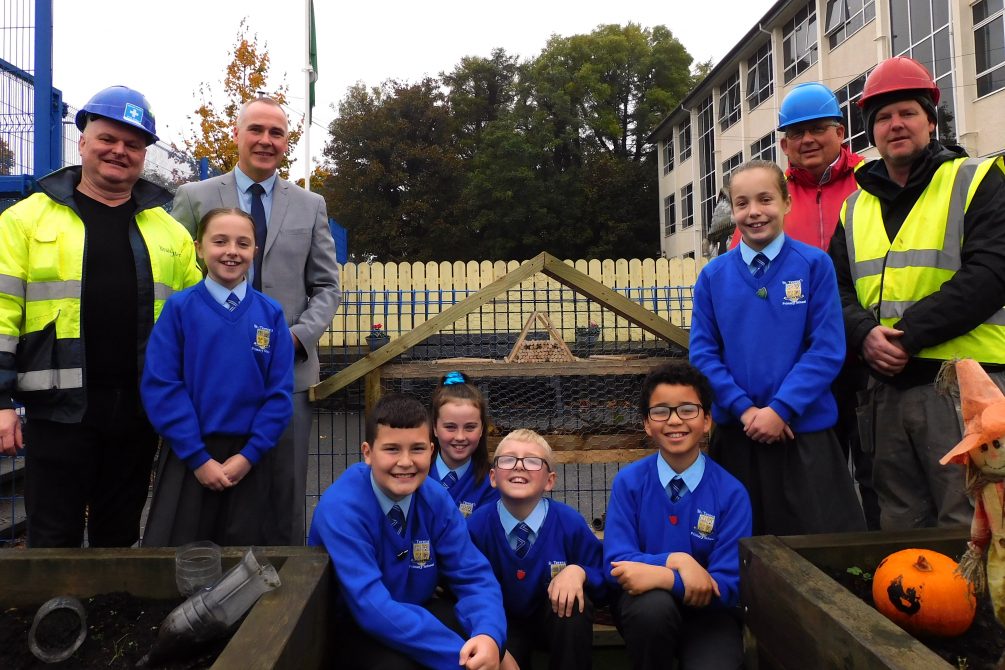 Pictured presenting and accepting the insect hotel to St.Teresa's PS are (L-r): Ciaran McMonagle, Braidwater Group, Terry Rodgers, Principal, Paddy Brannigan and Gerry Dowd of the Braidwater Group along with pupils from the school.
The primary school is located on the Glen Road, beside the main entrance to Glenmona – a largely undeveloped parcel of land that elevates from the Glen Road towards the Upper Springfield Road. The site also boasts panoramic views over Belfast and beyond to open countryside including Belfast Lough.
Building first commenced on the Glenmona site early in 2021 and the development will mature with over 650 social and affordable homes on the 75-acre development.

Along with the homes, the development will comprise a community centre with MUGA (multi-use games area) pitch, two care homes, a neighbourhood retail centre, a hotel and a number of children's play areas.
BW Social Affordable Housing is part of the Braidwater Group and the donation is a result of the company's Legacy and Building Community relations policy.

Delivering the planter box and insect hotel to the Belfast school were BW Social Affordable Housing's Paddy Brannigan, Gerry Dowd and Ciaran McMonagle.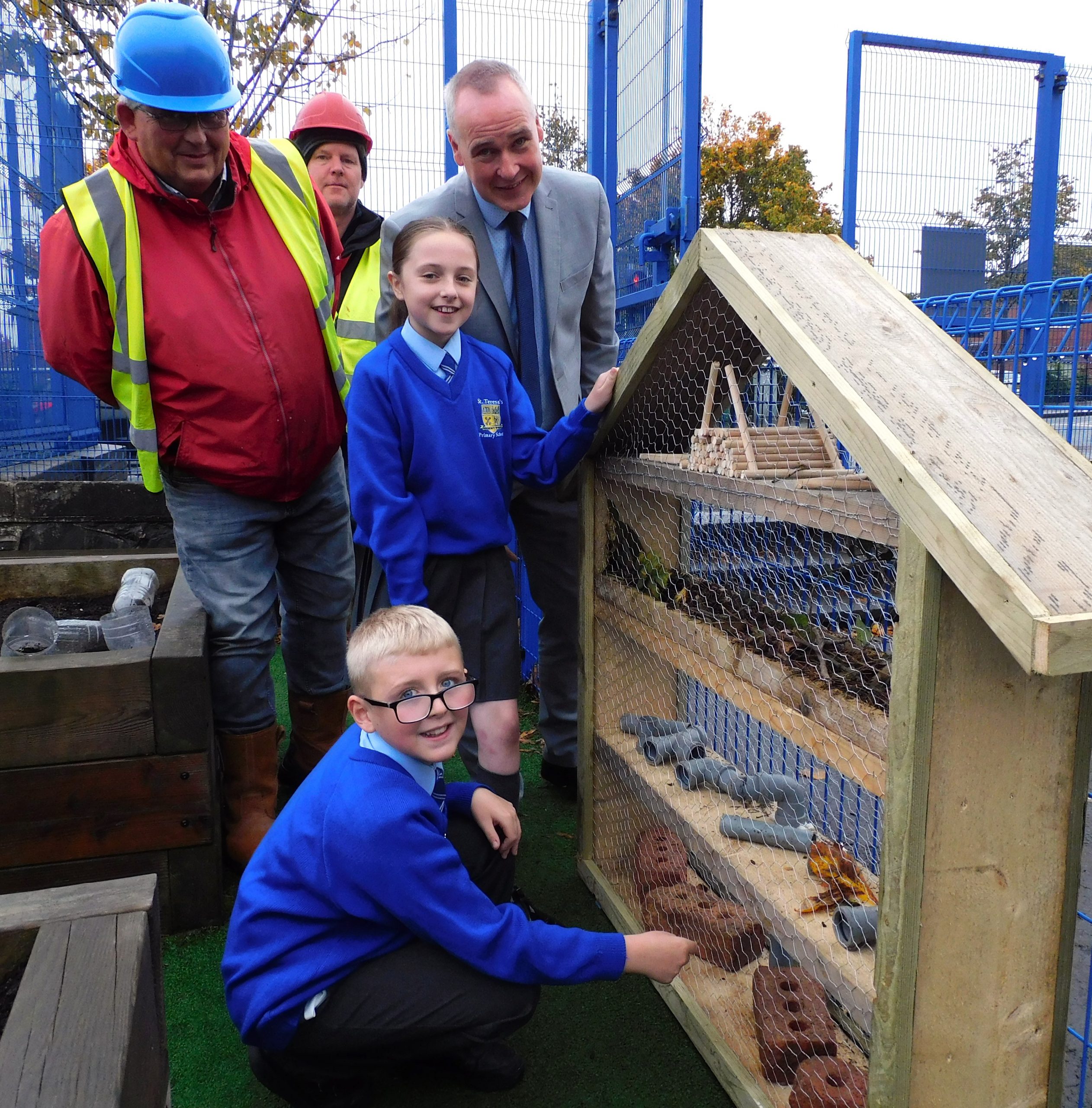 Two of the pupils inspecting the insect hotel.
Ciaran McMonagle, Health and Safety Manager at the Braidwater Group was delighted with the opportunity to link in with the local primary school, adding: 'It was great to be given this opportunity to build and donate these items to the local Primary School.
'The planter and insect hotel will be something the kids can interact with and see develop over time and it was a joy to see their faces light up with delight when we presented the items to them.
'A big thank you also to the principal of St.Teresa's, Terry Rodgers, and the pupils, two of which were from the school's Eco Council. It was great to have the interaction and very rewarding for all involved.''
The H&S manager concluded by acknowledging the site team for all their efforts, 'Great credit to the site team of Paddy Brannigan, Gerry Dowd, Peter Ritchie, Colin Martin and Colin Britton, for their time and efforts in constructing the planter and insect hotel.'
="capt">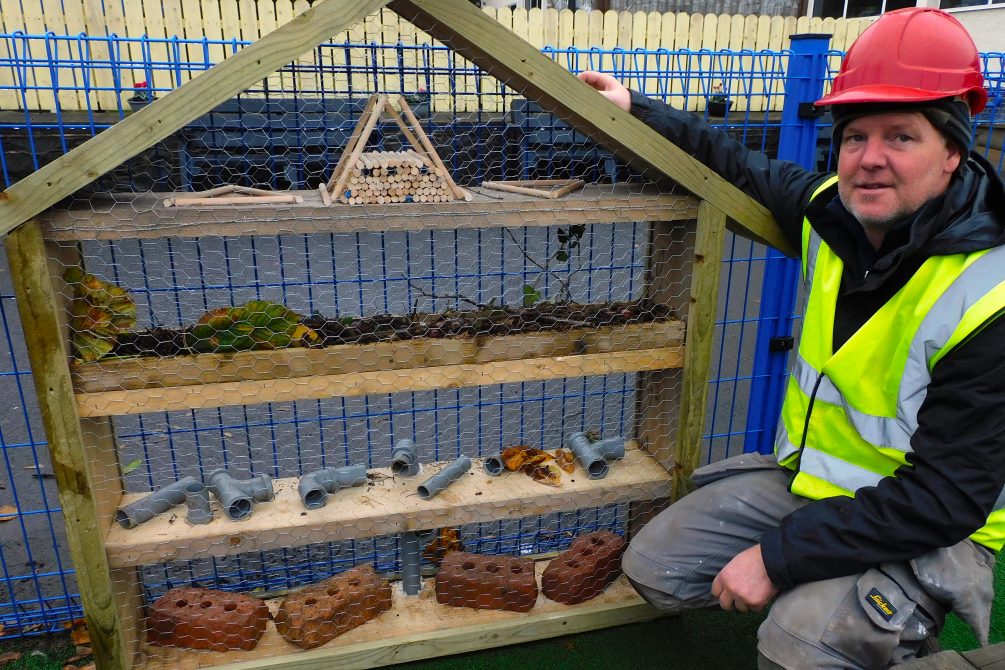 Gerry Dowd of the Braidwater Group who designed the insect hotel.