The Braidwater Group's Glenmona site on the Glen Road in Belfast took a significant step forward with the commencement of superstructures for the first new homes at one of the largest housing developments in Northern Ireland.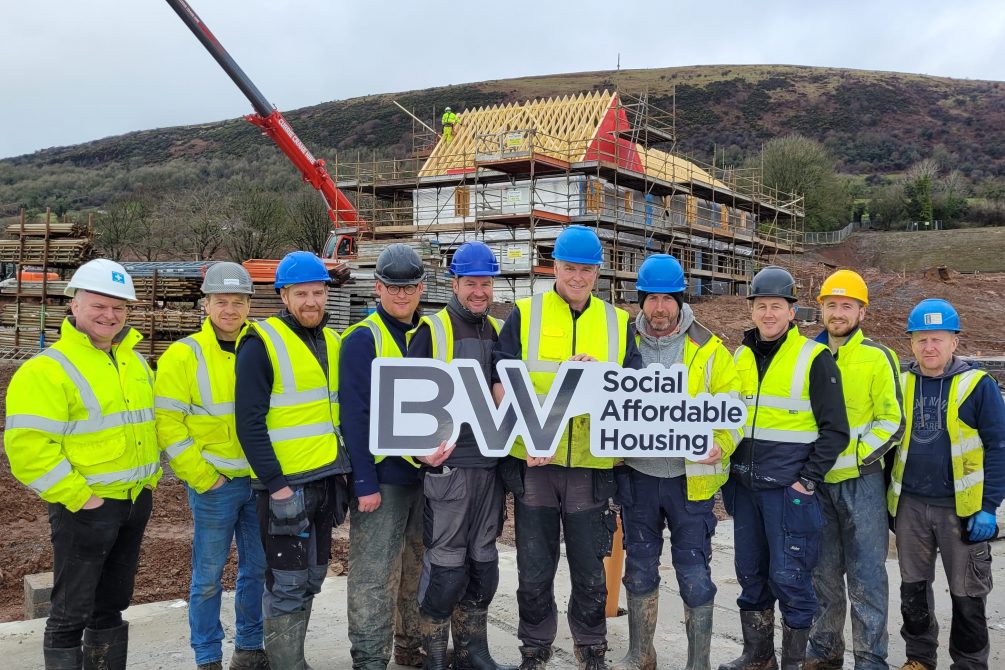 The BW Social Affordable Housing team at Glenmona (L-r): Ciaran McMonagle, Colin Britton, Gareth Gamble, Robert Russell, Colin Martin, Neil O'Kane, Peter Ritchie, Ryan Tannahill, Neil McKeag, Darren Johnson.
Glenmona will see the creation of a new mixed-use urban village by Apex Housing Association (Apex) under the guidance of leading house builder, BW Social Affordable Housing, which is part of the Braidwater Group. 
Work first commenced on the site early in 2021 and the development will mature with over 650 social homes on the 75-acre site in the west of the capital city.
Along with the homes, the development will also comprise a community centre with MUGA (multi-use games area) pitch, two care homes, a neighbourhood retail centre, a hotel and a number of children's play areas.

Glenmona is a largely undeveloped parcel of land that rises from the Glen Road towards the Upper Springfield Road and the site also boasts panoramic views over the magnificent city of Belfast and the Mourne mountains beyond including the picturesque backdrop of the Black Mountain.
Headquartered in Eglinton and with developments throughout Northern Ireland, The Braidwater Group has over 40 years' experience in the building and development industry, and speaking this week, Ryan Boyle, Chief Operating Officer at the group said: 
'With Spring in the air we're delighted to have started the commencement of superstructures which will ensure rapid progress in the coming weeks and months as the weather improves.
'With civil works at an advanced stage, the project remains on-plan and will provide much-needed residential accommodation and community space in the area.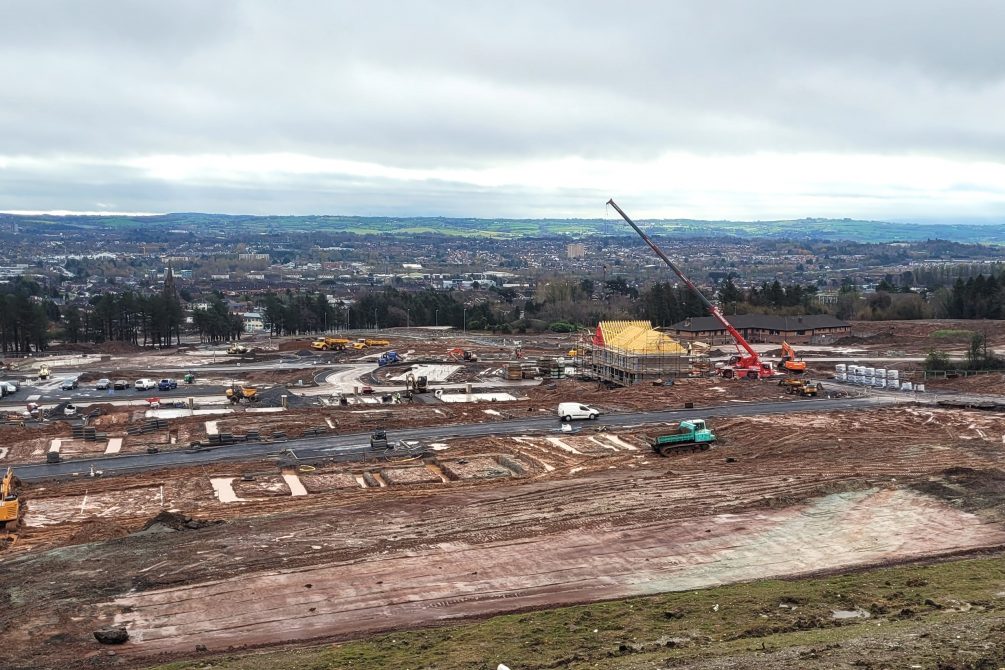 An overview of the Glenmona site with the first kits erected.
'Our project at Glenmona is providing hundreds of direct and indirect jobs for the local construction industry and the 'Buy Social' programme at Glenmona will ensure that job opportunities will be offered to apprentices, long-term unemployed, education leavers and professional trainees. We have also focused on sustainability, biodiversity and environmental factors, with plans to retain existing as well as planting over 10,000 new native species trees, adding to the wooded character that will last into the future.'
Barry Kerr, Director of Development at Apex, commented:
"We're delighted to see the superstructure stage commence on this fantastic development.  There has been an incredible amount of work carried out in the last two years by The Braidwater Group to get us to this point and it is exciting to see the commencement of kits as it's another big step towards handing over these much-needed homes."