87 families are settling into their new homes at Cappagh Green in Portstewart, as leading social housing provider Radius Housing and BW Social Affordable Housing complete another major housing development. Located off the Coleraine Road in Portstewart, Cappagh Green consists of 75 new social homes and 12 private sale homes on a mixed tenure site, which is the first of its kind in the North West area. The development is a Department for Communities Housing for All Scheme. The development represents an investment of more than £11.5 million by Radius Housing.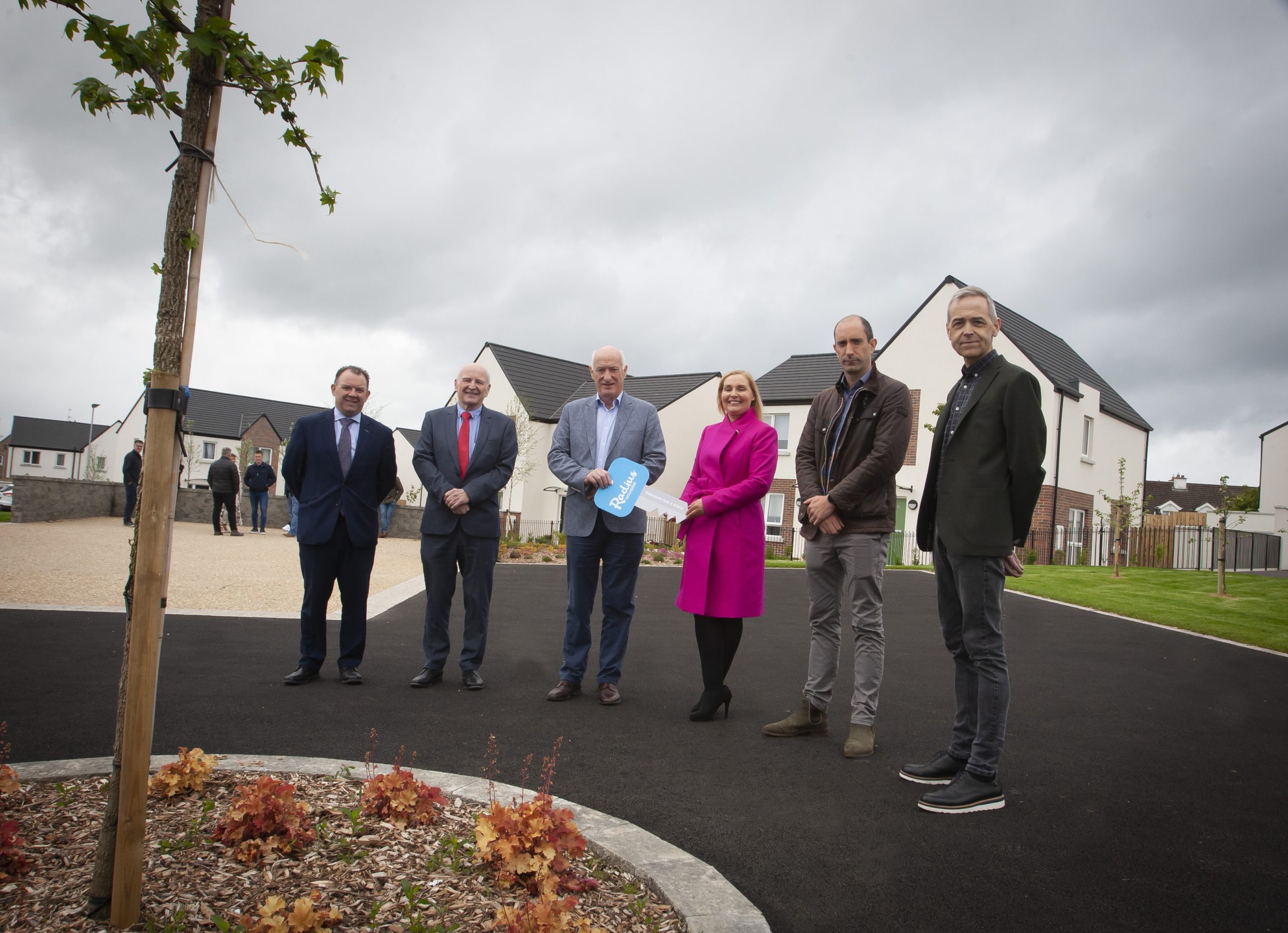 Pictured at the Cappagh Green housing development in Portstewart: Daniel and Colm Henry of Bensons Estate Agents, Patrick McGinnis, BW Social Affordable Homes (BW), Anita Conway, Radius Housing Association, Joe McGinnis and Dermot Mullan, BW.
BW Social Affordable Housing was the lead contractor on the project, which supported more than 95 construction jobs throughout the lifetime of the construction. The new development consists of 20 apartments, 9 townhouses, 54 semi-detached houses and 4 detached homes. Six of the homes are 'complex needs' homes and have been specifically designed to facilitate people with disabilities and special needs, while 12 were sold ensuring this is a mixed tenure residential development promoting choice and inclusiveness.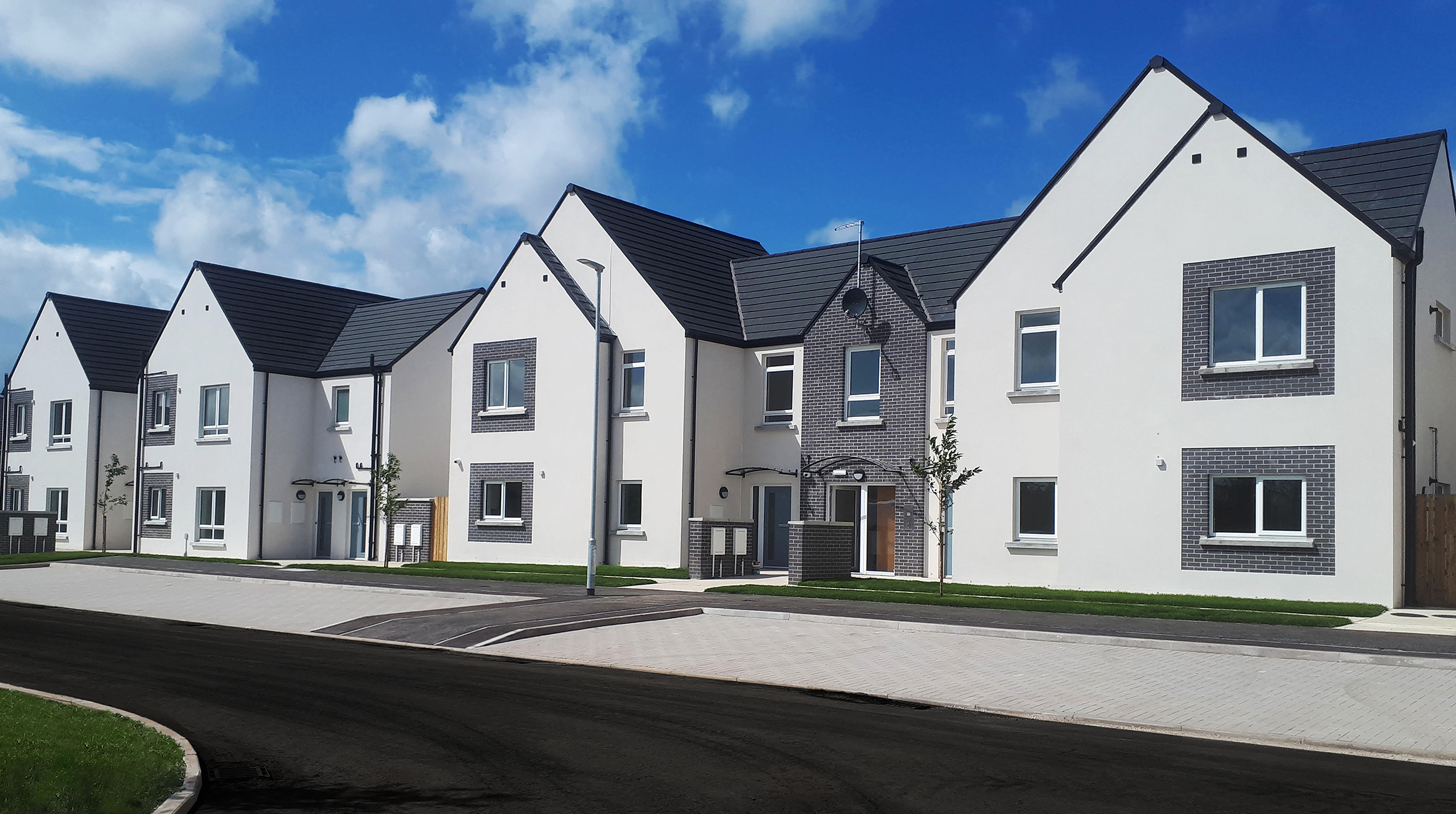 The finished homes at Cappagh Green.
Cappagh Green has 2 large common areas. In the central area, residents will enjoy the benefits of a bespoke soft landscaped area which includes feature walls, picnic tables and seating areas – all made from recycled plastic. The areas are easily accessible by specialist aggregate paths. Cappagh Green is registered as a  "Secure by Design" development and has received SBD Certification. The houses have been designed as highly energy efficient and sustainable homes with a full range of modern house designs that suit the needs of spacious family living.
The development has been selected as part of the Department for Communities' Housing For All Programme which forms part of the Northern Ireland Executive 'Together: Building a United Community' Strategy which is committed to creating a more united and shared society in Northern Ireland. The shared neighbourhood will be supported by a 5-year Good Relations plan which includes 'bonding' and 'bridging' events within the neighbourhood and the wider area to build a strong cohesive community. 
One of the final new residents to pick up her keys was grandmother Margaret Ferguson, who praised the onsite team and the quality of the new homes, saying "I'm just so happy that my two grandchildren and myself will be moving into a home for life. This is life-changing for us and we love the homes and the area. Indeed, we are so grateful to everyone involved.
"The site foreman, Dominic Millar, and the BW house building team have been brilliant to deal with, so understanding and accommodating. I've nothing but praise for them, the homes and also the Radius housing team."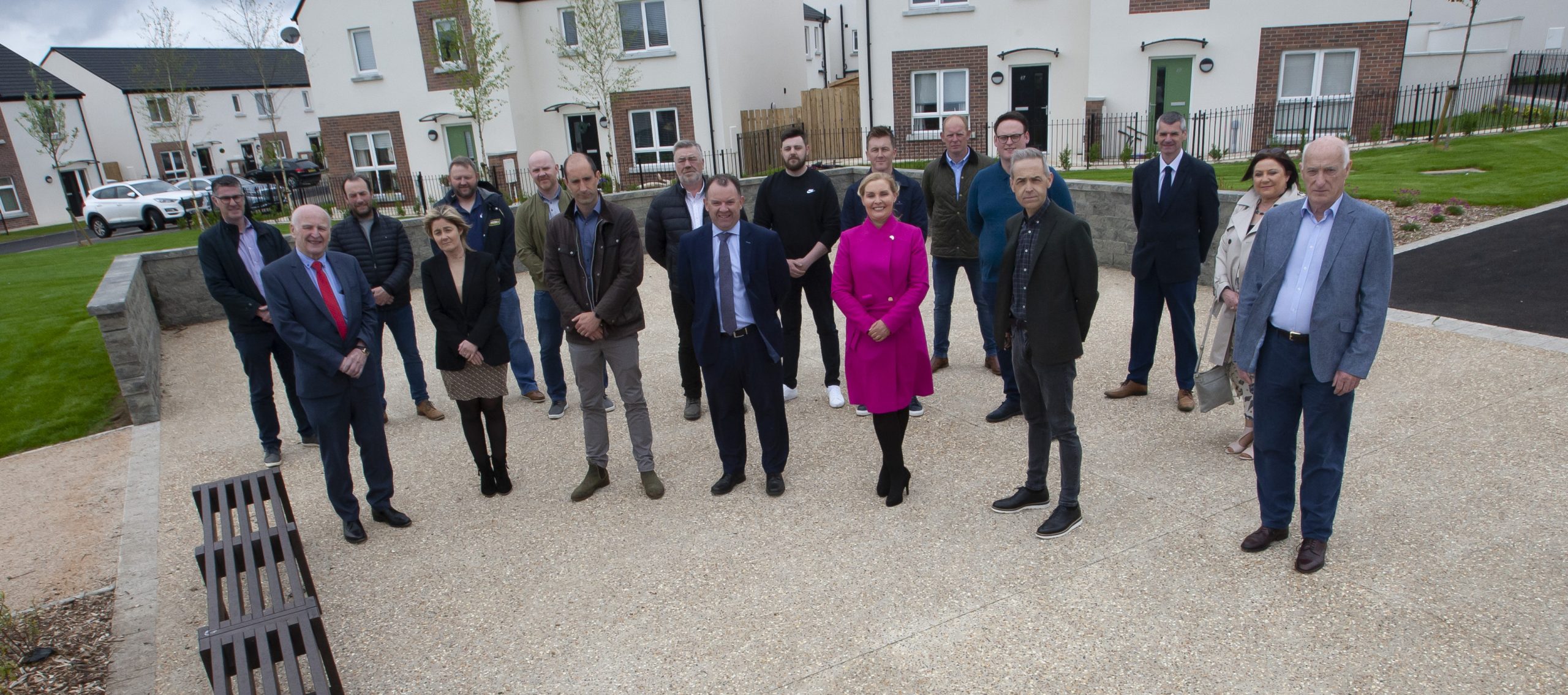 Pictured at the official handover, back row (L-r) are BW Social Affordable Homes (BW) representatives: Kevin McGeoghegan, Sean McWilliams, Lexie Boyd, Allan Nelson, Dominic Millar, Peter O'Hara, Ryan Tannahill, Richard Rodgers, Robert Russell, Darren Farnan and Marie Ferguson. Front row (L-r) are: Colm Henry and Lynsey Hart of Bensons Estate Agents, Joe McGinnis, BW, Daniel Henry, Bensons, Anita Conway, Radius Housing Association, Dermot Mullan and Patrick McGinnis, BW.
Speaking at the final handover, Anita Conway, Radius Housing's Development Director said "We are delighted to see the completion of this mixed tenure development and we wish the very best to everyone in their new homes. We have been looking forward to this for some time as these high quality homes will help address the high level of housing need locally and provide an accessible opportunity for all buyers. 
"At Radius we are committed to creating high quality new developments, which merge smoothly with the wider community and we are proud to deliver the first mixed tenure site in the North West area. An investment of this size also brings significant benefit through construction jobs and supply chain opportunities, and working with BW, we have been able to ensure that it has had a positive impact."
Dermot Mullan, Director of BW, which is part of the Braidwater Group, added "The team at BW Social Affordable Housing recently handed over the final homes in Cappagh Green to Radius Housing and we are delighted to confirm the development was finished ahead of schedule and within budget.
"On behalf of The Braidwater Group I'd like to take this opportunity to thank all involved including the team on the ground, the subcontractors and suppliers and all in the office for their approach to maintaining high standards. We would also like to take this opportunity to thank Radius Housing for their professional and co-operative approach to all aspects of the construction. The finished development of Cappagh Green looks absolutely amazing and we've received top class feedback from purchasers, tenants and all involved.''
The Braidwater Group is a family owned business located in Eglinton and has operations throughout Northern Ireland. BW Social Affordable Housing is part of the Braidwater Group with over 40 years' experience in the industry.