With just over one year into the construction programme, Cappagh Green in Portstewart is making excellent progress with the first of the new homes handed over in recent weeks.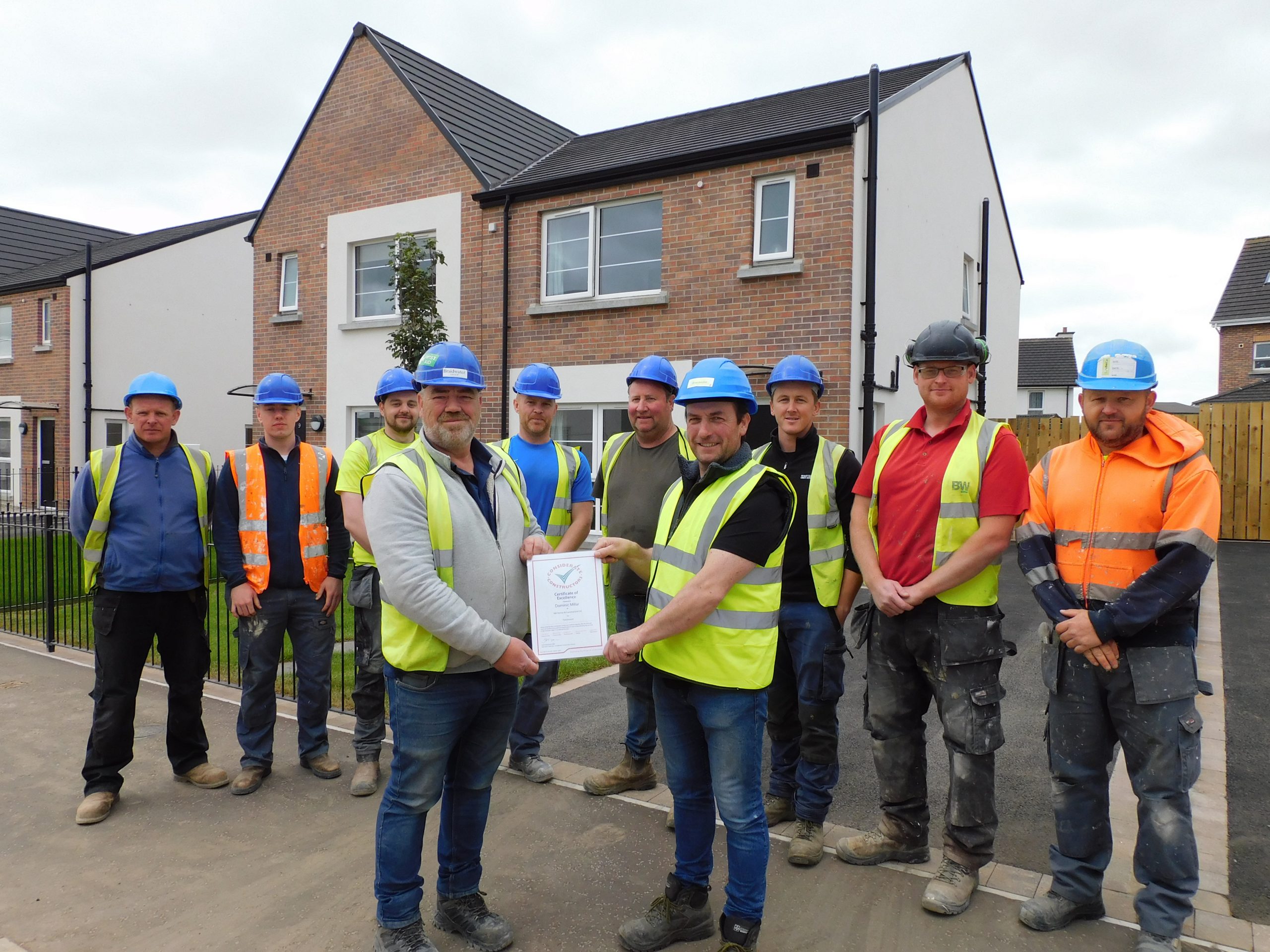 The BW Social Affordable Housing team at Cappagh Green: front row (from L-r) Dominic Millar, site foreman, receives a Considerate Constructors certificate of excellence from contracts manager, Sean McWilliams. Back row (from L-r): Richard Rodgers, Shane McEllhiny, Peter O'Hara, Alan Nelson, Danny McBride, Ryan Tannahill, Rab Russell and Lexi Boyd.
A residential scheme of 87 homes, Cappagh Green is being developed by BW Social Affordable Housing (part of the Braidwater Group) for Radius Housing, which includes 12 new homes for sale which were all reserved last December.
Since the handovers commenced, there has been huge positive feedback for the construction team onsite. One of the new home owners in Cappagh Green, Susie Anderson, was delighted to pass on some positive feedback regarding the work to date and the team: 
''I have to say the houses are finished to such a high standard I can't believe how well they look. From the internal to external finish and any snagging that's been required, the site foreman Dominic and his team have been more than helpful and professional. I can't thank them all enough for the beautiful home they've handed over to me and I can't wait now to settle in and make it my own.''
Cappagh Green features modern house designs that suit a range of needs and encourage spacious family living. Each house is carefully designed to offer the perfect balance between home comforts and convenience. 
Sean McWilliams, contracts manager with the Braidwater Group stated:
''The team has excelled itself with the quality of finish of the new homes at Cappagh Green. It has taken a huge team effort and the reward has been a lot of positive feedback from the new homeowners. I'd like to thank the site foreman, Dominic Millar, and his team for the continued hard work and dedication to ensuring Cappagh Green is a top class quality development.''