The Braidwater Group recently invited community, charitable and sporting organisations in the Glenmona area, to apply for funding, in celebration of the commencement of construction at the West Belfast site.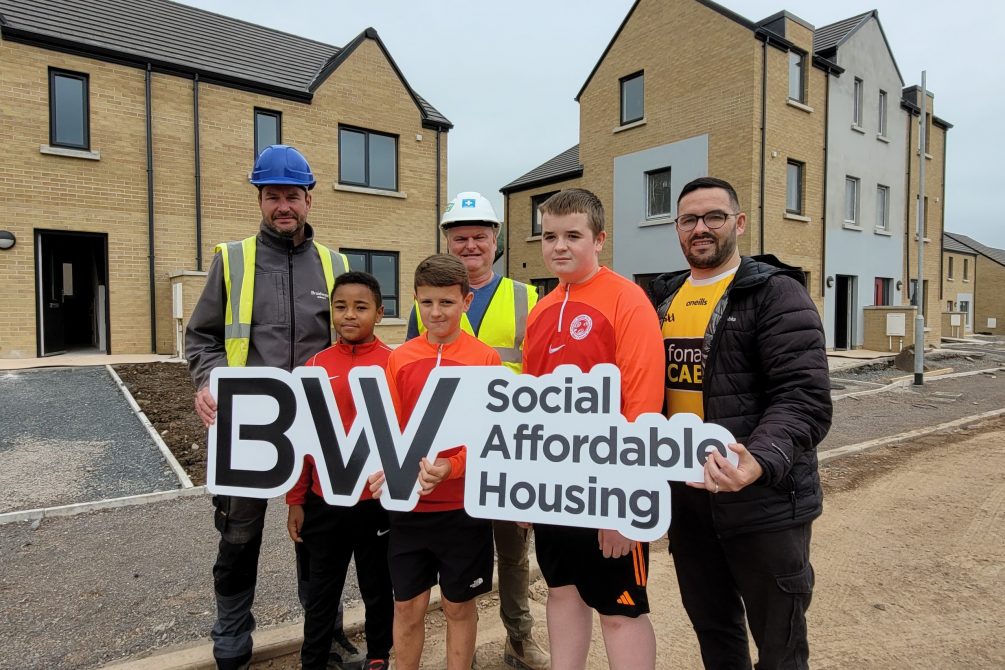 The Braidwater Group's site Manager, Colin Martin (far left) and Ciaran McMonagle, SHEQ Manager (middle), welcomed representatives of Cumann Spóirt an Phobail to Glenmona (L-r): Carl, Kian, Che and Dee McComb. HERE
Glenmona
The Glenmona development will see the creation of a new mixed-use urban village by Apex Housing Association (Apex) under the guidance of leading house builder, BW Social Affordable Housing, which is part of the Braidwater Group. 
Cumann Spóirt an Phobail
Last week the Braidwater Group announced the recipients of the funding, the first being Cumann Spóirt an Phobail (CSP). 
CSP is a voluntary sporting club that aims to promote football as a means of positive community engagement. Established in 2007, CSP is based in the Upper Springfield area of West Belfast, right at the base of the Black Mountain. 
The club offers people, especially young people from hard-to-reach groups, the opportunity to get involved in the diversionary activities that they provide. 
Social inclusion and volunteer development are to the fore of the guiding principles that direct Cumann Spóirt an Phobail. Governed by a voluntary management committee, CSP is made up of volunteers and has no paid staff.
Darren Farnan, marketing manager of the Braidwater Group confirmed the Group's support for Cumann Spóirt an Phobail:
''We're thrilled to be able to fund local clubs & groups that are doing invaluable work in the community in order to provide inclusive activities for a wide range of age groups throughout West Belfast. On behalf of the Group, I'd like to wish CSP all the best for the rest of the year.''
Braidwater Group
The Braidwater Group has been building homes of quality, style and value for close to 50 years and is committed to not only building homes but to bettering the lives of people throughout Northern Ireland.