Communities Minister Deirdre Hargey visited Glenmona in West Belfast this week for an update on one of the largest housing development projects in Northern Ireland in recent years.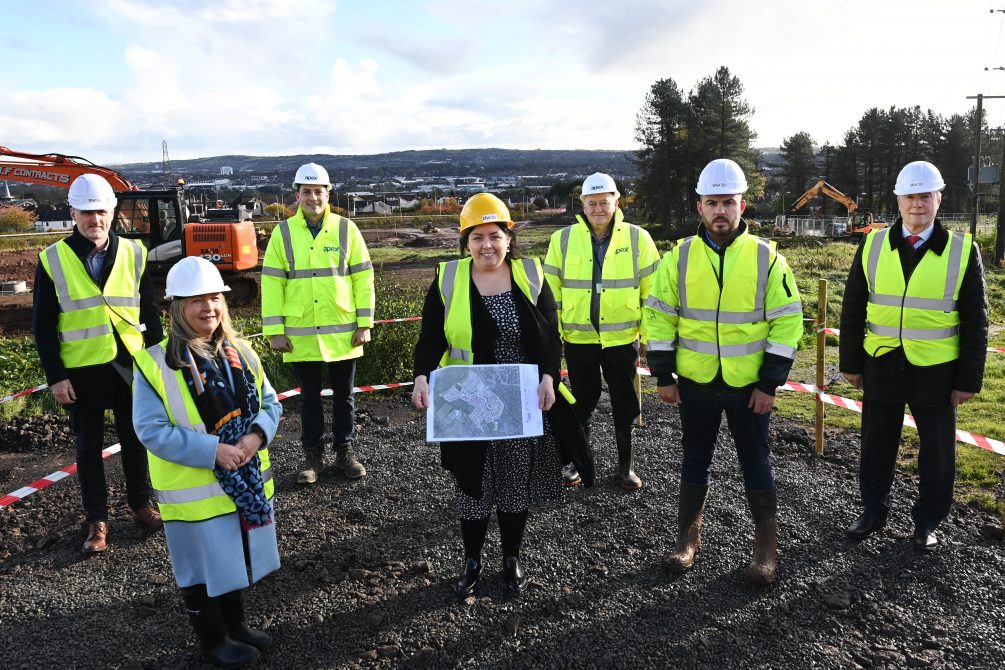 Ministerial visit to Glenmona. Pictured (L-r) are: Vincent Bradley, Development Director of BW Social Affordable Housing (BW), Sheena McCallion, Chief Executive of Apex, Barry Kerr, Director of Development Apex, Communities Minister Deirdre Hargey, Peter Caldwell, Chairperson of Apex, Ryan Boyle, Chief Operating Officer of BW and Mike Stansfield, Non Executive Director of BW.
Glenmona, located beside the Glen road, will see the development of 653 homes by BW Social Affordable Housing (part of the Braidwater Group) to meet demand in the area. 
During the visit, Minister Hargey reiterated her commitment to delivering more social homes:
''Delivering more social housing to areas most in need is central to my programme of housing reform. The 653 homes which will be constructed here in Glenmona will add to the many currently under construction to meet the needs of our society and help reduce housing stress.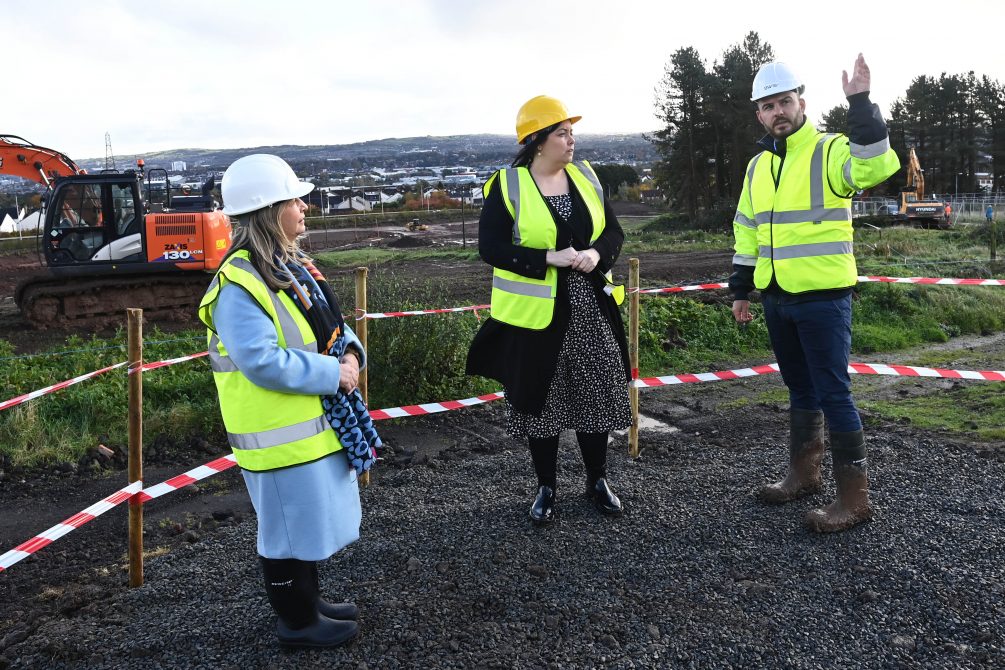 Ryan Boyle, Chief Operating Officer of BW, discusses plans for the Glenmona development along with Communities Minister Deirdre Hargey and Sheena McCallion, Chief Executive of Apex.
In addition to the increased new build budget of £162million I secured for this year, I have approved up to £15million in additional support available to Housing Associations who are working with the construction sector to build new homes. This is to take account of the unprecedented upsurge in material costs so there is no adverse effect on the number of new social homes delivered this year.
Vincent Bradley, Development Director of BW Social Affordable Homes, agreed with the Minister's comments:
"This is a crucial time for the construction industry, which is facing knock-on pressures from the pandemic and Brexit uncertainty, and we welcome the additional support.
Glenmona is crucial for the housing demand in the area, providing much needed residential accommodation and community space.
On top of the hundreds of direct and indirect jobs for the local construction industry, the 'Buy Social' programme at Glenmona will ensure that job opportunities will be offered to apprentices, long term unemployed, education leavers and professional trainees.''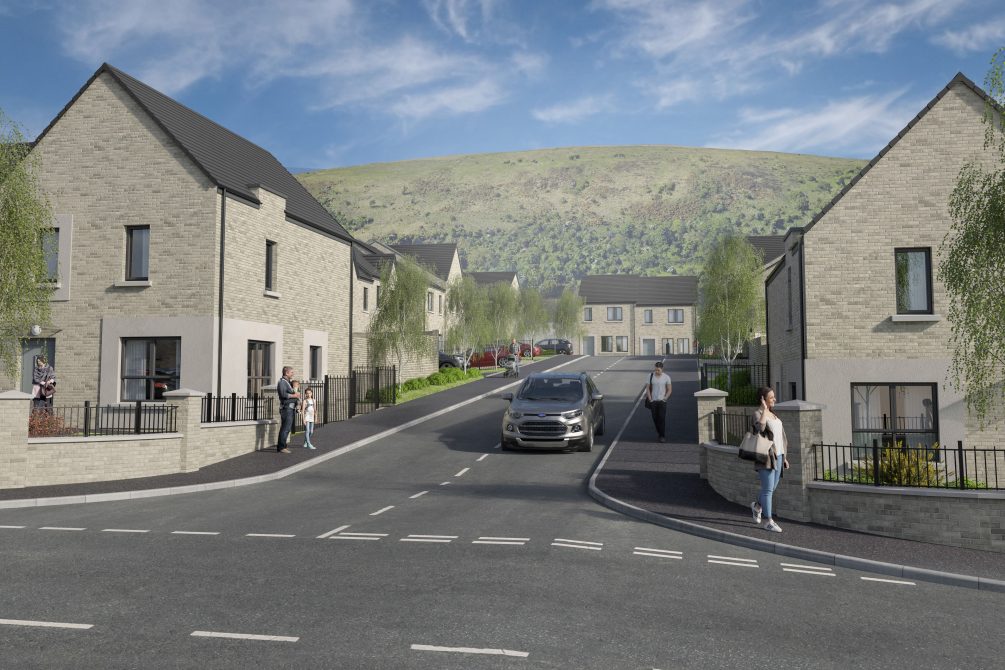 A computer generated image of the housing at Glenmona with Black Mountain in the background.
Sheena McCallion, Chief Executive of Apex Housing Association, commented:
''It was our pleasure to welcome Minister Hargey to the Glenmona site in Belfast to see the progress being made on this significant project.
When completed, Glenmona will provide much needed social and affordable homes for families, older people and those with complex needs in West Belfast. The site will also see the development of community, retail and employment facilities, as well as green spaces and play areas for children and young people.
The scale of the plans at Glenmona and the success of the project in providing more than just social homes will hopefully lead the way for more developments like this in Northern Ireland. With the support of the Minister and her department we look forward to developing more communities like Glenmona in the years to come.''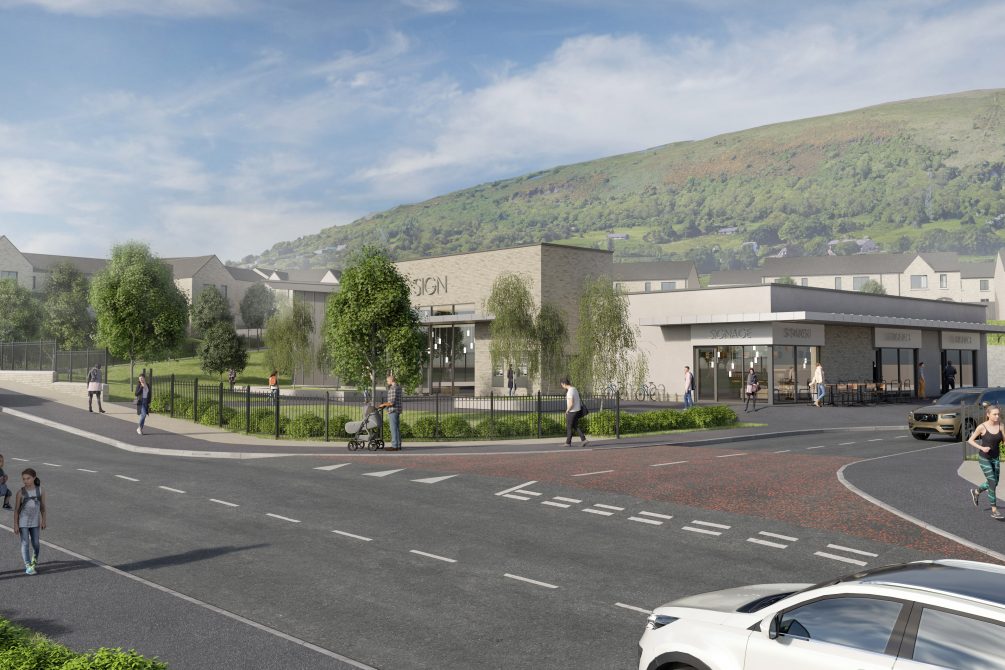 A computer generated image of the retail units at Glenmona in West Belfast.
The £140million scheme has been supported by £47.2million Housing Association Grant funding from the Department for Communities and over £92.8million private finance investment by Apex and will include a number of other community and workspace facilities.
As well as housing on the Glenmona site, there will also be two replacement residential care homes; a mixed use area including a local neighbourhood retail centre with shop units; a hotel, an employment zone to include a mix of six Class B1a offices, a community building, MUGA pitch and play area; internal road networks; pedestrian and cycle ways; public open space and a children's play area.