The Braidwater Group, a renowned house builder with over 50 years of experience, has announced the commencement of significant groundworks for The Cashel, formerly known as H2, following a successful planning application in late 2022.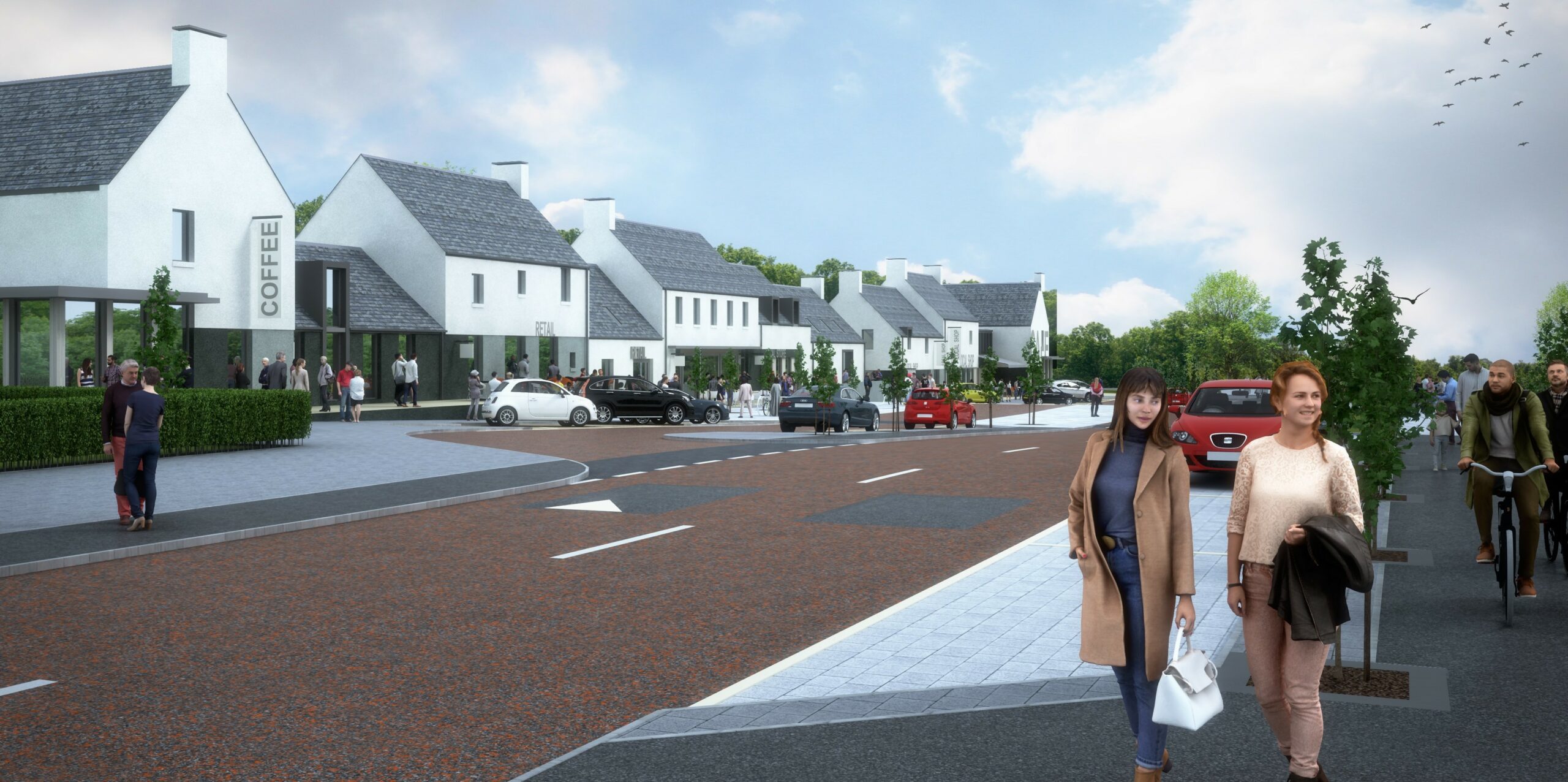 A computer generated image of The Cashel's High Street.
This marks a pivotal first step in an ambitious development project set to deliver private, social and affordable homes, along with a comprehensive network of facilities. 
The vision for The Cashel is to create a vibrant urban community, with over 2,500 private, affordable and social homes, a school, communal amenities, an interconnected system of green areas, retail establishments, and convenient services. The project will also feature a bustling high street and a central park, fostering a sense of community and quality living for residents.
Headquartered in Eglinton, The Braidwater Group has earned a distinguished reputation as one of Northern Ireland's leading house builders, emphasising innovation, quality, and community development in all its projects. Importantly, The Cashel will be delivered with a carbon conscience in mind, meaning all efforts to reduce the emissions associated with the development are being considered. There will also be vast tree planting activity and associated biodiversity projects delivered throughout the lifetime of the project, this will include local community groups and residents from the area. 
Due to the scale of this transformative project and in accordance with the Outline Planning Permission, The Braidwater Group will now construct a new Local Distributor Road Network. This will require the realignment of both the Coshquin and Whitehouse roads. Consequently, extensive groundworks will commence in the area between the Buncrana Road and the Coshquin Road. Traffic management will be in place and residents, as well as local businesses, have been notified. 
Ryan Boyle, Chief Operating Officer of The Braidwater Group, emphasised the importance of this project for the city; "The Cashel is fantastic news for the city, poised to provide a substantial economic boost, including the creation of approximately 250 construction jobs and apprenticeships. 
"Additionally, local suppliers and subcontractors will benefit positively from the work. While some disruption is inevitable due to the sheer scale of the work, we are committed to diligently mitigating its impact throughout the project."
As preliminary groundworks have commenced, The Braidwater Group is committed to transparently informing local residents and the wider community about the phased program of activity. Regular updates and communication will ensure that everyone remains well-informed about the project's progress.
The Cashel represents a significant milestone for The Braidwater Group and a remarkable opportunity to contribute to the growth and development of the region. With a legacy of successful project execution, the company looks forward to creating a thriving, modern urban community that enriches the lives of its residents.