A design and build project in the Skeoge area of Derry/Londonderry, which is currently being developed by BW Social Affordable Housing, has been recognised by the Considerate Constructors Scheme for its level of consideration to neighbours, the work force and the environment.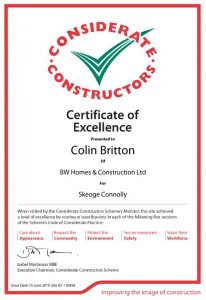 The aim of the scheme is to improve the image of the construction industry through regular monitoring of all registered sites, suggesting areas where improvements could be made and rewarding those who are performing at the highest levels.
BW's Clon Dara development achieved an A1 star rated performance for the site and a certificate of excellence for complying with the scheme's Code of Considerate Practice.
Clon Dara consists of 144 homes, featuring detached and semi-detached
 homes and apartments. The scheme is being developed by BW Social Affordable Housing for Apex Housing Association.
BW Social Affordable Housing develops quality social housing projects throughout Northern Ireland for Apex, Clanmil, Connswater and Radius. BW has also committed to allocating an amount of £500 to a local charity as part of its commitment to support the communities operated in. Further to this, onsite staff ensure any meaningful skip items are retained for local charity, Extern.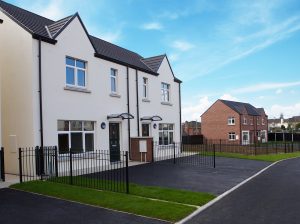 Colin Britton, contracts manager, BW, said:
"BW has embraced the core values of Considerate Constructors to achieve best practice and to improve the image of Clon Dara, the company and the industry and we are delighted to receive this recognition. Clon Dara is an important development for us and it represents a scheme of diverse housing tenure that aims to create a real sense of place. To achieve this it features a retail unit, community hub, playpark and a number of complex needs units which are completed to the specific needs of tenants.
"The high spec quality design includes high pitched roofs, large windows, composite front doors and patio doors. Individual dwellings have been sensitively designed to provide high quality sustainable accommodation that offers heightened thermal performance. Timber frame construction together with high density insulation, glazing and Ariston combi boiler, contribute to a more energy efficient home. In addition to this, photo voltaic panels have been installed to assist tenants with alleviation of fuel poverty.
"The senior management team of Braidwater liaised with the local community through elected representatives and groups in order to listen throughout the planning process. The scheme has been specifically designed to promote relationships between residents and foster community links through the introduction of a central retail and community building."